Some Famous Woods
in a timeline - more or less
(If you would like to post a comment about anything in this page, go to the Club Talk Room of the Members' Area)
William Wood
(c1170-1231) - referred to as 'Lord Willhelmus de Bosco' in official

documents then customarily penned mostly in Noman Latin - was a powerful senior cleric described as Cancellarius Regis (Chancellor) to King William the Lion and King Alexander II. These are among the first - and copious - written mentions of the Name in Scotland.
Professional academic research of documentary and heraldic evidence, commenced in 2014, confirmed that the progenitors (founding ancestors) of the chiefs of Clan Wood stemmed from the family of Chancellor William de Bosco of Ogilface by Edinburgh.
A Norman nobleman
[Sir Andrew de Bosco, laird of Redcastle to the north of Inverness in the Highlands, was also a descendant of William. He was slain at Loch Ness in 1304 after taking up arms against King Edward I of England. The Wood families of Colpney near Aberdeen, and of Balbegno, Kincardine and Craig were all of this Sir Andrew's lineage, though not of the chiefly family.]
Admiral Sir Andrew Wood of Largo (Founder of the present chiefly family)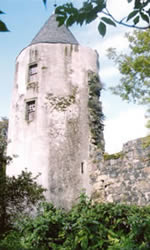 Born around the middle the 15th century near Edinburgh to an eminent ships-owning mercantile family, Andrew Wood's distant relatives included similarly distinguished and regionally powerful Wood families. His first cousin, Walter Wood, acquired the Bonnytoun estates in Angus by marriage at the end of the century. [Walter and his eldest son perished with their king at the 1513 Battle of Flodden, along with much of the Flower of Scotland.]
Andrew inherited the chiefship from his father, Alexander. His maternal grandfather was Sir George de Crichton, Earl of Caithness and Lord High Admiral of Scotland.
Sir Andrew'sTower The 'Yellow Caravel'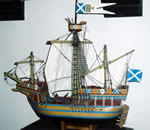 The Woods already had a long history of occupying rich and fertile lands in Lothian, Kincardineshire, Aberdeenshire, Angus, Banffshire and elswhere - that is mostly on the eastern side of the country. The three main areas still held around the time of James VI are shown in the map 'Scotland of Old' published in 1998 by Collins.
Andrew Wood was a successful merchant and was owner of the carrack, 'Flower'. He became a master of fighting off Dutch, English and Portuguese pirates that infested the trade routes on which Scotland so relied for her economic survival and political independence. An admirer of his exploits, King James III commissioned him to captain his magnificent ship, the Yellow Caravel. Sailing out of Leith, Andrew triumphed in running battles with privateers and squadrons sent by the English government, was made Admiral of Scotland and a feudal baron, giving him a voice and duty in the parliament.
A carrack ship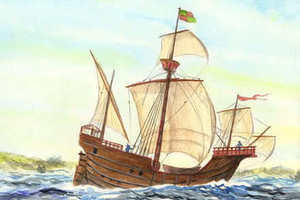 like the Flower?
At his barony of Largo, he fortified his great house like a castle, a tower of which still stands. Sir Andrew Wood died before 3 November 1517 - probably in 1515. English attempts to ruin Scotland's economy by blockading her essential trade with mainland Europe had been foiled by his inspired naval leadership and through the stirring example he demonstrated to his contemporaries. With the authority of King James IV, it was Sir Andrew's expansion of the shipyards at Leith's New Haven that established the port as the centre of shipbuilding in Scotland. His lasting impact on Scottish history, and the influence of his descendants who enjoyed the friendship of successive Stewart monarchs, were largely overshadowed by subsequent national upheavals. Today, though, his heroic reputation is gaining its deserved resurgence.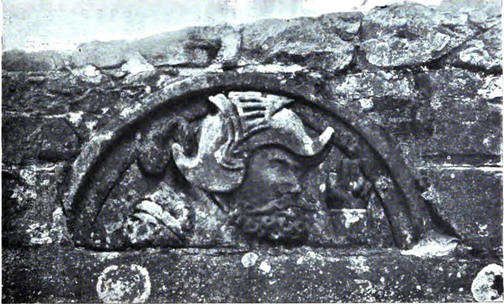 This sculpture of a naval commander can be seen at Balbegno Castle, the remarkable stronghold of a related senior Wood family during the Admiral's lifetime, and which they made more 'homely' over the years.

Is this the face of the Admiral himself?

The Kirkton of Largo and Largo Law, Fife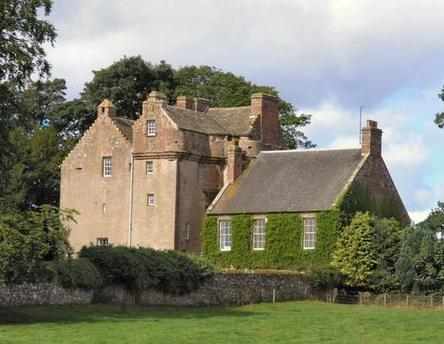 Balbegno Castle, Fettercairn, Kincardineshire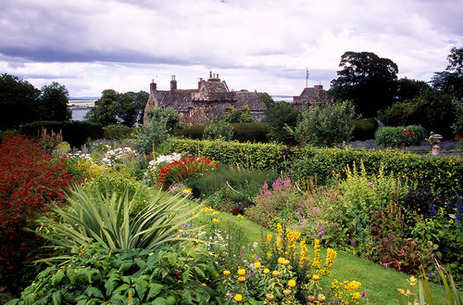 Craig Castle, by Montrose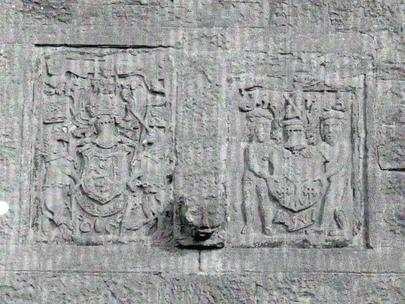 The supported Armorial Bearings of Wood of Bonnytoun, carved in stone.
These blocks were removed from above a gate of the now demolished Bonnytoun Castle, Maryton in Angus, and inserted into a wall of a neighbouring roadside farmhouse, where they can still be seen. The Arms to the left are those of the king, from whom the Woods held commissions.
John Wood of Tullidavie (aka Tillydavy & Tillidoun) and the Casket Letters

The second son of Sir Andrew II of Largo who was the eldest son of the Admiral, he attached himself to the service of James Stewart, a natural son of King James V and half-brother to the ill-fated Mary. John accompanied Stewart, in 1558, to attend the wedding of Queen Mary of Scotland to the sickly Dauphin of France who, as King Francois II, died two years later. [But for the continuing Reformation, a child from that union would have inherited the crowns of both Scotland and France - probably of England, too.] Like Stewart, John Wood joined the Reformist cause and at the first General Assembly marking the Scottish Church's rift with Rome in 1560, his name occurs among those considered qualified for ministering and teaching.
The widowed queen returned to Scotland the following year, having lived in France since infancy. With secretary John Wood at his shoulder, Stewart, now Earl of Murray (aka Moray), was her chief adviser and John Wood was nominated an Extraordinary Lord of Session at the centre of government. On the 9th December 1562, John was created a Senator of the College of Justice. In 1566, we find him bearing a letter from Murray to Sir William Cecil, Lord Chancellor of England. When the Roman Catholic Queen of Scots was forced to abdicate her throne in 1567 in favour of her infant son James VI, Protestant Murray became Regent of Scotland and the six-year Marian Civil War broke out between the king's supporters and those of Mary. It was largely a religious conflict. John will have accompanied the Regent during his suppression of the queen's forces in the southwest and on his march upcountry to negotiate with the northern clan chiefs at Aberdeen and Inverness, when John wrote, 'Such a power has seldom been seen there.' Mary fled into England in 1568. John's name appears alongside the momentous articles resolved upon by the General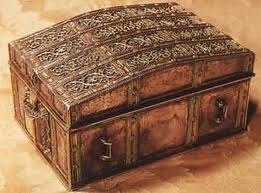 Assembly held that same year.
John was a frequent visitor to England in the period leading up to the indictment of Mary, and was carrier of the infamous so-called 'Casket Letters' that were claimed to show her complicity in the murder of her second husband, Lord Darnley. Conversely, Queen Elizabeth and Cecil (later Lord Burghley) entrusted to his care State papers intended for Scottish eyes. The Regent used him as his mouthpiece at the Assembly which sat in July 1569.
Divided by conflicting ideas and beset with various religious factions struggling violently for supremacy, Scotland was a land in turmoil. The Regent was shot as he passed along a Linlithgow street in January 1570. On 15th April, John Wood was likewise assassinated. Theirs were the first politically motivated assassinations ever carried out by firearm.
John Wood of Orkie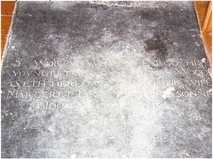 The son of Thomas Wood, youngest son of Sir Andrew Wood II, John was therefore a great-grandson of the Admiral. Born around 1587, he was a member of the Royal Households of King James VI (James I of England) and King Charles I. He may well have been part of James's entourage when the king progressed to London to claim his English throne following Queen Elizabeth's death in 1603. His required attendance in Parliament with the king's Court would have made him one of the intended victims of the foiled 1605 Gunpowder Plot. (The event is commemorated in the UK every 5th of November with bonfires and fireworks parties.)
John was part of the royal suite in 1633 when Charles I was crowned at Holyrood in Edinburgh, and he was made a burgess of Perth. Prodigiously wealthy, John lent large sums of money to fellow courtiers among others. It was in repayment for outstanding debts that he acquired the barony of Anstruther in 1636, and the estate of Orkie, close to the Stewart kings' favourite Palace of Falkland, in 1656, both from the Earl of Crawford.
[The first phase of the misnamed 'English' Civil War actually began when Scottish Covenanters rose up in 1638/9 against the king's attempt to impose bishops and the Anglican Book of Common Prayer on their Church. The final battles of the war were won by Cromwell in Scotland in 1650 at Dunbar, in 1651 at Inverkeithing, Fife, and in England at Worcester two months later.]
Meanwhile, John was made a burgess of Edinburgh in August 1641 when he was in attendance on the king at a banquet in the city. He appears to have spent the Civil War period in Scotland, and certainly resided in the vicinity of Edinburgh from 1643, the year after open hostilities broke out between king and English parliament. He caused the wall around the Largo kirkyard to be built: it stands to this day, complete with a stone recording what "John Wod" had done.
Upon the Restoration of the Stuarts (respelt in the French manner by Mary) in the person of King Charles II, John instantly repaired to London, where he expired the following February, 1661. The almost illegible stone tablet pictured here is in an aisle of Largo kirk. It reads: "Sir Andrew Wood of Largo his youngest son, Thomas, lies here buried with his wife, Margaret Logan, and their son, John Wood Esq." (Note that "Wod" had changed to "Wood" since the kirk wall was built. See the History of the Name section.)
[Context: He would have been about thirty when the Largo estates were sold - see the Our Chiefs section. His father Thomas Wood's older brothers included Andrew heir to Largo, John of Tullidavie (above), and James of Lambieletham who is depicted as the original writer of the biographical account of his grandfather's turbulent life and times in Scotland's Admiral, now transcribed as a fascinating ebook obtainable from the Clan Shop.]
John left money in his will to build a hospital (today sheltered housing accommodation) in Largo for indigent persons of the name Wood on their father's or mother's side. He also left in trust his estate of Orkie to build and maintain a new school in neighbouring Drumeldrie for impoverished scholars of the name Wood on their father's or mother's side. The clanship of the Woods was clearly still a meaningful entity at this time.
A founder member of the Clan Wood Society received a bursery from the John Wood of Orkie Trust when he was a student at the University of St. Andrews.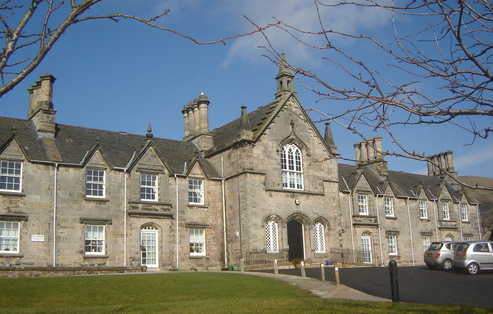 John Wood's Hospital (rebuilt, and now called John Wood's Houses)
Robert Wood
(12th Representer)

Secretary and adviser to John Ker, Duke of Roxburghe who, as Secretary of State for Scotland, steered the passage of the 1707 Act of Union through Parliament. Robert held that key post from about 1705 till 1727, and will have helped put the legislation together that created Great Britain.
John Wood of Largo
(13th Representer and Chief of the Name)

Governor of the Isle of Man 1761-77. He took formal possession of the island for King George III when the lordship was acquired by the Crown in 1765.
Alexander Wood, Surgeon 1724 - 1807
An Edinburgh surgeon and a 'character', he was nicknamed 'Lang Sandy' Wood
because of his lanky figure, and was well known for walking the streets with his two pets, a tame sheep and a raven. Poet Laureate Robert Burns greatly liked the warmth and generosity of Wood's nature. A burgess of Edinburgh and resident of Canongate, he had a splendid reputation as a doctor in the city, and he attended Burns when he hurt his leg badly falling from his coach. For his part, Wood admired Burns's genius and recommended him for a post to the Excise Commissioners. Sir Walter Scott and Lord Byron also held the surgeon in high esteem.
He was the first man in Edinburgh, Henry Mackenzie tells us, to own an umbrella, about 1780. When he was seized one night by a rioting mob mistaking him for the provost, he cried: "I'm Lang Sandy Wood; tak me to the licht and ye'll see." He was at once released.
One of his pupils was the pioneer of psychiatric medicine, Sir Alexander Morison.
Son of Thomas Wood, a farmer in Restalrig and Broughton on whose land the greater part of Edinburgh's magnificent New Town was later built, he married Veronica, dtr. of George Chalmers, WS. Their third son was Sir Alexander Wood who was Chief Secretary (effectively Governor) of Malta for the conclusion of the Napoleonic Wars, then of the Ionian Islands till his demise in 1847, uncle to Alexander, Lord Wood of Woodcote (see next), and husband of Christian, daughter of Sir Wm. Forbes of Pitsligo.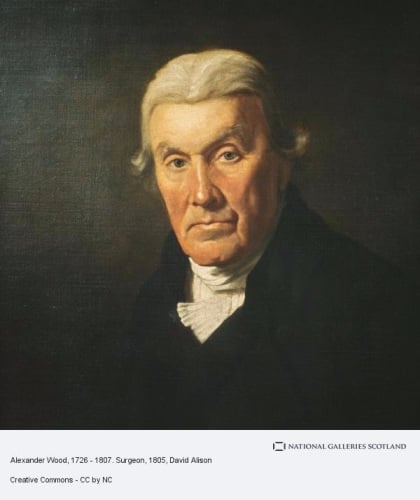 Further reading:
Alexander, Lord Wood of Woodcote, Senator of the College of Justice
Grandson of the above, he was born by Edinburgh's Royal Mile in 1788 to Isabella, daughter of John Campbell of Newfield, and George Wood. The family shortly moved to 6, St. Andrew Square in the New Town. After qualifying as an advocate, he lived and worked independently at 45, Queen Street. In 1830, he was appointed Sheriff of Kirkcudbright and, in 1841, Dean of the Faculty of Advocates. The following year, he succeeded to the position of Senator of the College of Justice. He was then living at 1, Royal Circus in the city's Second New Town.
He married Jane, dtr. of John Anderson of Inchyra, and had three sons: John Andrew, an advocate like his father, David William and Alexander. Their daughter, Isabella Mary, married John Inglis, Lord Glencorse.
He died in 1864, and is buried with his family in Restalrig churchyard.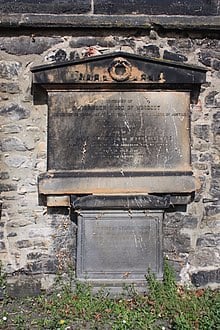 His gravestone lies against the southern wall of the church
Andrew Wood, Surgeon FRSE, LLD
He was born at 42 South Hanover Street, Edinburgh in 1810 to Mary, dtr. of Thomas Gillespie, and surgeon William Wood, Fellow of the Royal Society of Edinburgh.
Making a name for himself especially in the New Town, he rose to the position of manager of Edinburgh Royal Infirmary. In 1855, he began a long and distinguished reign as President of the Royal College of Surgeons of Edinburgh and, in 1863, was elected a FRSE. He was also a burgess of Edinburgh.
Dr Wood died at his home in western Edinburgh in 1881. He was buried in Warriston Cemetery, but he is also memorialised at Restalrig churchyard beside his great uncle, Alexander, Lord Wood of Woodcote.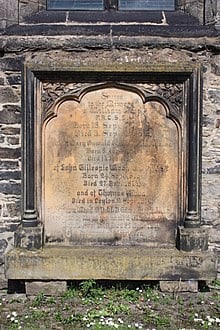 The Wood memorial at Restalrig
Sir Gabriel Wood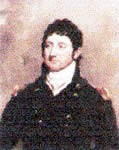 Born 1767 at Gourock on the River Clyde estuary, he became Consul for Maryland (which included where Washington DC stands today), and later Commissary-General of Accounts for the Caribbean, the Mediterranean and then of Canada - without doubt the most influential military position abroad.
[During the American War of Independence, the British government combating the colonists and their French allies' armies and naval blockades, put far more resources into defending Great Britain's highly lucrative West Indies possessions and wresting more from its French foe than it deployed for holding on to the much less important thirteen mainland colonies which, truth be told, British popular opinion regarded as little more than a depository for transported petty criminals - due to decades of press reports of law trials. A military strategy Sir Gabriel resolutely promoted right up to the war of 1812-15, it was a value judgement that directly led to the utter defeat of France and to British consolidation and expansion elsewhere - most notably Canada, India, Australasia, in S.E.Asia and in Africa.]
Wood died in 1845. From one of his legacies, Sir Gabriel Wood's Mariners' Home was founded in Greenock five years after his death and is still serving the purpose for which it was intended.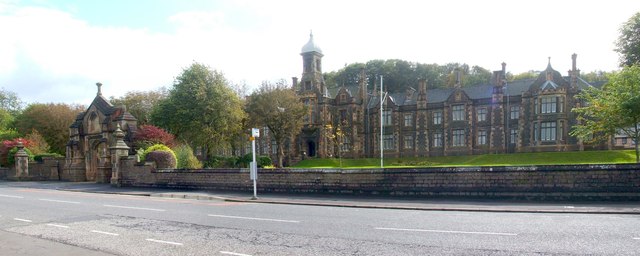 Alexander Wood - "One of Toronto's most respected inhabitants"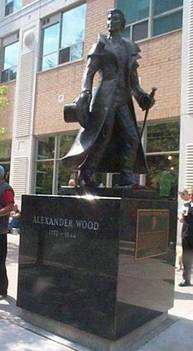 Alexander Wood was born in January 1772 in the Kirkton of the one-time thanage of Fetteresso, Stonehaven in Aberdeenshire. With some capital and the backing of his elder brother, James, he moved to Kingston, Ontario then to York (today's Toronto) in 1797. There he became a merchant trading mostly in goods he imported from Great Britain and dealing in local farm produce such as flour and hemp fibre. He was one of the leading three merchants of the embryonic town with whose rapid growth he was closely identified. Due to his loyalty and remarkable social qualities - and no doubt his background being that of an ancient line of Scottish barons, he was one of the few citizens 'in trade' who were accepted among Ontario's élite class.
Wood was gazetted lieutenant in the York militia in 1798, appointed magistrate in 1800, and by 1805 was a commissioner for the Court of Requests (the planning authority), as well as being involved in every movement for community betterment or social enjoyment. It was in his role as a justice of the peace that, in 1810, he became embroiled in a sex scandal that may have been a consequence of sheer naivety. Whatever was the truth, he fled back to Scotland to escape the approbrium, but returned to Canada less than two years later just after the 1812-15 war broke out between the United States and the British Empire.
He immediately resumed all his previous duties, senior offices and community activites as well as undertaking several government commissions. In 1842, Wood travelled to Scotland to attend to matters concerning his family's estates, Woodburnden in Aberdeenshire, which he had inherited in 1817. He intended to return to Canada, but he died in 1844, aged 71, and was interred at Fetteresso. Like his brothers and sisters, he never married. Woodburnden passed to a female relative of the name, then to her son.
Throughout his life in Upper Canada, Alexander Wood was active as a director or executive member of many organisations, among them the Bank of Upper Canada, the Home District Agricultural Society, the St Andrew's Society and the Toronto Library, and as the hard-working treasurer or secretary of other bodies, including the Home District Savings Bank, the Loyal and Patriotic Society of Upper Canada, and the Society for the Relief of the Orphan, Widow, and Fatherless.

At his death, the journal British Colonist called him one of Toronto's "most respected inhabitants".
John Wood, surveyor and map maker.
By far the most significant surveyor of Scottish towns was John Wood, who published 50 plans of them between 1818 and 1826. A few of these plans (such as those for Edinburgh, Leith, Glasgow, and Dundee) were improvements of recent town plans by other surveyors, but most were based on original surveys by Wood himself. As well as being published individually, 48 of these plans were also published in Wood's Town Atlas of Scotland (1828). For many smaller Scottish towns these are the earliest plans that were created, and in addition to showing the town at a very large scale, they often also name land and property owners. Wood was resident in Edinburgh from 1813, but spent long periods surveying English and Welsh towns in the later 1820s and 1830s. He returned to Edinburgh in the 1840s, producing maps of Kirkcudbright, Stranraer and Airdrie before his death in 1847. (Text by courtesy of the National Library of Scotland)

John and his brother, Charles (who had started shipbuilding together in Quebec before returning to the Clyde and opening a yard in Dumbarton), took over their father's Port Glasgow shipyards when John Snr. died in 1811.
Under John's management, Messrs. John Wood and Co. then built the epoch-making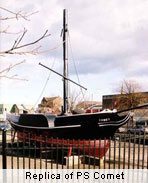 PS Comet, Europe's first viable commercial steam vessel, for Henry Bell in 1812. The 28-tonne paddle steamship was nearly 14 metres (45 feet) long and some 3 metres (10 feet) broad. The firm subsequently built several larger steamships, and "from this small beginning dates the great and important shipbuilding industry on the Clyde." -
The Ordnance Gazetteer of Scotland.
[What John Wood did for Clydside, Admiral Sir Andrew Wood of Largo had achieved for Leith on the opposite coast, three hundred years earlier, by developing the New Haven which led to that town becoming Scotland's major shipwrighting centre.]
John Wood was noted for building sailing ships which were greatly admired for fine workmanship and symmetry. They were fondly referred to as 'Wood's Yachts'
William Wood, 1808-1894
(An appreciation extracted from the New York Times)

William Wood, one of the oldest and best-known residents of this city, died yesterday at his house, No. 4 West Eighteenth-st, in the eighty-sixth year of his age. His name has been more closely identified, perhaps, with the public-school interests of this city than that of any living man. For a long period he was one of the most active members of the Board of Education , and he devoted a large share of his time and energies to the development of the public-school system and a close supervision of its arrangement. He became chairman of the Committee on the Normal College, an institution which profited by his energy and of which he was one of the founders.
Mr. Wood was born at Glasgow, Scotland, in 1808. His father was John Wood, a banker, of the firm of Dennistoun & Wood, which had banks in Glasgow, Liverpool, London and later in New-York. Mr. Wood came into this city in 1838 to start a branch of the Glasgow house. The firm name then was Dennistoun, McGregor & Co., but Mr. McGregor soon withdrew, Mr. Wood taking his place. Mr. Wood's parents intended him for the bar, and gave him an education at the University of Glasgow, the University of St. Andrews and other seats of learning. He had been in New-York less than two years when he fell in love and married Harriet A. Kane. He returned to Glasgow, where he remained for several years before becoming a New-Yorker for life. His banking business prospered and he amassed a fortune. Before the war there was hardly a banking-house better known in this city than Mr. Wood's. At one time he took an active part in all important public movements, and was interested in politics, although not an active politician. In 1869 he retired from business. He was appointed in that year one of the Commissioners of the Board of Education by Mayor Hall, and on the passage of the new city charter the same year the Mayor appointed him a Commissioner of the Dock Department. Before and during the war Mr. Wood was an ardent Abolitionist, and helped many refugee slaves on their way through New-York to Canada. He was a pronounced Free-Trader, and when discussion was rife in Great Britain against the corn laws, Mr. Wood went to England and made many speeches. For this he was made a vice-president of the Liverpool Anti-Monopoly Association. He became an elder in the Collegiate Reformed Church of this city in 1860.
A number of years ago he obtained possession of the Wood ancestral home at Elie, Fifeshire, Scotland. The place is a handsome one facing the North Sea. It was built about 300 years ago, and has been in possession of the Wood family ever since. Mr. Wood was a personal friend of Philip Hone, one of the early Mayors of this city. He was also the young companion of Bartley, the officer in command of the English flotilla on Lake Erie when Commodore Perry achieved his memorable victory over the British. He also knew Daniel O'Connell, the Irish agitator, and spoke from the same platform with him. One of his early recollections was that of seeing a Highland regiment, with banners and music marching through Fifeshire after the battle of Waterloo. Another reminiscence which Mr. Wood delighted to relate was that in his youth he had been told by his grandmother, or grand-aunt, that the latter remembered having heard when a young girl the guns at the Battle of Marston Moor. That battle was fought in 1641, 250 years ago, and only one life intervened between Mr. Wood and his ancestor who could remember the conflict. Mr. Wood told this story to the writer at the last annual dinner of the St. Andrew's Society, held on December 1 1893. He was then the oldest member of the society, having joined it sixty years before, in 1833, when he was the youngest man in the organisation.
Mr. Wood's death was due principally to old age. His funeral will take place next Thursday morning at 10 o'clock at the Collegiate Reformed Church at Fifth-ave. and Twenty-ninth-st. Five sons and four daughters survive him. He was thrice married, his second and third wives being Miss Margaret Lawrence and Miss Helen Mason.
Another descendant of the Admiral and born at Kilrenny, Anstruther, Fife in 1812, he is most famous for discovering the source of the River Oxus - the longest river in Southeast Asia - for the British Indian Navy in 1837/8. For this signal achievement he was awarded the Royal Geographical Society's prestigious Patron's Medal, in 1841. His book,
A Journey to the Source of the Oxus
, was published in the same year. It was he who coined the now familiar expression, 'the roof of the world', which he used to describe the Pamir Mountains.
He subsequently superintended the innovative Indus Steam Flotilla for a very successful ten years of operation. He may have succumbed to one of the endemic river diseases of the region, for he returned to Britain in October 1871, where he died the following month at the early age of 59.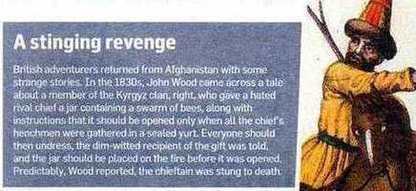 A new book (Nov. 2009) called Shooting Leave by John Ure, has been published by Constable. It contains thrilling and sometimes
gory tales about 19th century British military adventurers operating in and
and around Afghanistan,
among them Capt. John Wood.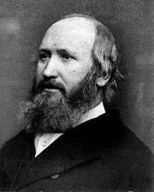 A 9-times g-grandson of the Admiral, he was born in 1817 and lived in Colinsburgh by Largo. He was appointed to the Royal College of Physicians of Edinburgh and is most remembered for developing and introducing the hypodermic syringe in 1853.
He was cousin to Alexander, Lord Wood of Woodcote (see above).
He died in 1884.
Further reading:
William Bruce Wood
A son of Alexander Wood of Aberdeenshire, he was born in 1848. The family emigrated from Scotland to Ontario in 1854. After being educated in Perth (located on the River Tay, like its Scottish counterpart) and London, he entered business as a grain merchant and a sawmill and gristmill owner. Married to Ellen Malcolmson, he served on the councils for South Dumfries Township and Brant County. He represented Brant North in the Legislative Assembly of Ontario as a Liberal between 1886 and 1895, became a government whip, and introduced a bill to allow women to be admitted as barristers to the Law Society of Upper Canada. He retired soon after due to ill health, and was named registrar for Brant County, serving in the post till 1905. Both he and his brother, David Beattie Wood, had periods of being mayor of Brantford. William Wood moved to Montreal around 1911, where he was president and general manager of Dominion Flour Mills. He died in 1928.
Rt. Hon. Thomas McKinnon Wood, MP, Privy Councillor and Secretary of State for Scotland 1912-1916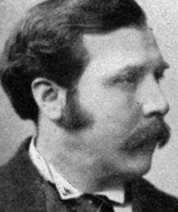 Born 1855 in London to Jessie née McKinnon and Hugh Wood, a merchant shipowner who was the son of an Orkney farmer, Thomas Wood was elected Liberal Member of Parliament for Glasgow St. Rollox in 1906, after holding a number of prominent posts in London local government.
Rising through several senior government posts, he joined the Cabinet in 1912 as Secretary of State for Scotland then, from 1915, concurrently as Financial Secretary to the Treasury in the coalition War Cabinet. He retired from Parliament in 1918 and died in 1927.
Frank Watson Wood
Born to Berwick-on-Tweed parents in 1862, Wood became a Royal Navy officer and was soon known as a 'naval artist'. By 1906, he had sold a picture of Cowes Regatta to King Edward VII for the Royal Yacht and several more to Queen Alexandra. He subsequently offered his talents as principal of the Hawick School of Art. His hundreds of fine watercolours of maritime subjects in particular are famous. He died in 1953, having continued painting well into his 80s. His works have been exhibited at the Royal Acadamy, the RSA, the Royal Institute of Painters in Watercolour and the Royal Glasgow Institute of Fine Arts, and his sought-after pieces are still attracting high prices today. Prints of his work are as popular as ever.

HMS Queen Elizabeth near the Forth Railway Bridge, 1922
Wendy Wood
The well-known campaigner for Scottish independence from the United Kingdom.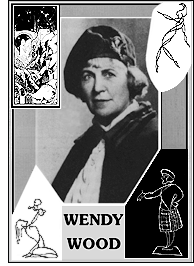 Born Gwendoline Emily Meacham in 1892, she adopted the maiden name Wood of her mother, who was the grand-daughter of a Highland crofter and daughter of an Ulster Scot.
In 1928, she was one of the founders of the National Party of Scotland, which later became the Scottish National Party. In 1932, she notoriously led a group of nationalists into Stirling Castle, tore down the Union Flag and replaced it with Scotland's lion rampant flag (which only the monarch and his or her appointees may rightfully and legally display). She also founded the Scottish Watch (not to be confused with the more extremist, militant organisation of the same name). In 1949, she founded the Scottish Patriots and was soon involved in protests against the Queen being called Elizabeth II of Scotland, because Scotland had not had an Elizabeth I. Wood had more success in achieving some prison reform, but she failed, in 1960, to persuade the General Assembly of the Church of Scotland to back demands for a Scottish parliament after asserting that the old parliament had not been properly dissolved in 1707, merely adjourned. 1972 saw Wood's hunger strike for home rule. That changed nothing directly, though a referendum For or Against the setting up of a Scottish Assembly was held in 1979, but fell on what many regard as a technicality.
In the early 1970s, she would often read Scottish stories on the BBC children's TV programme Jackanory under the name Auntie Gwen. Many British readers of this will fondly recall her strong, musical speaking voice.
Wendy Wood died in 1981, so she was not to see the establishment (the end of the 'long adjournment') of the Scottish Parliament in 1999 following the referendum of 1997.
Sir Alan Muir Wood, FREng, FRS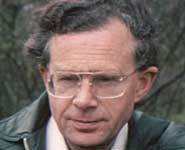 Known as the father of modern tunnelling, his brilliant civil engineering innovations revolutionised the way railways and roads are built today. He died early in 2009 aged 87.
He was principally engaged in major tunnelling, coastal engineering, energy, road and railway works, and he produced a large number of scholarly publications in his many fields of interest. He was Senior Partner in the firm of William Halcrow until his retirement in 1984 and was President of the Institution of Civil Engineers in 1977. Even following his retirement he remained an active consultant on many tunnelling projects around the world.
Each one pushing the boundaries of what was thought possible, among the most important ventures associated with him are the Clyde Tunnel in Glasgow, the Tyne Tunnel, the Second Mersey Tunnel (Kingsway) and the Orange Fish River Tunnel in South Africa. His intellectual rigour, ability to communicate complex engineering principles and ambassadorial skills did much to persuade the British and French governments in the mid-1980s to approve a project that they had prevaricated over for generations - the Channel Tunnel.
All three of his sons hold senior posts in the related fields of civil engineering and geology.
Sir Alan's grandfather was the early photographic genius John Muir Wood who was also a famed Edinburgh musicologist - a friend and associate of piano manufacturer Thomas Broadwood, and of composer Frederic Chopin who, in November 1848, gave in Edinburgh his final concert performance. Wood's major works are owned by the National Scottish Portrait Gallery, and have been exhibited around the world at such centres as the Metropolitan Museum in New York.
[While in Edinburgh, Chopin stayed at 10 Warriston Crescent. The manor of Warriston was once a Wood possession from early times.]
Christopher Wood 1941-2009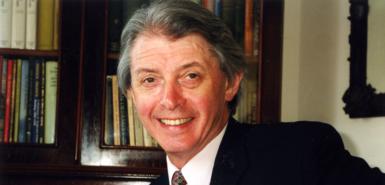 Christopher Wood was a highly respected art critic and connoisseur, valuer, author and London gallery owner.

His passions were Victorian and Pre-Raphaelite oils, watercolours and drawings, as well as furniture of the Arts and Crafts and Gothic Revival movements.

He claimed William Morris and Pugin as his twin gods. He was a prolific writer of books in his many fields of expertise, and a consultant to both private collectors and museums.
Christopher became a familiar public figure by appearing regularly as an adviser in the hugely popular BBC TV series, Antiques Roadshow.
The family came from Ancrum in Roxburghshire, Scotland, where they had settled in the late 18th century. Christopher joined the Clan Wood Society in 2006 and derived much pride and pleasure from wearing his Wood tartan trousers (trews) with his green smoking jacket.His younger brothers, David and Anthony, are both Life members of the Society.
Gordon Stewart Wood, American Historian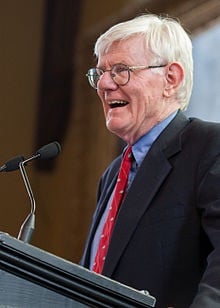 Born in Concord, Massachusetts in 1933, Professor Wood has taught at Harvard, the College of William and Mary, the University of Michigan, Brown University, Cambridge University (Pitt Professor), and in 1982–83 he lectured for One Day University.
In addition to his many acclaimed books like The Radicalism of the American Revolution which won the 1993 Pullitzer Prize, Wood has written numerous influential articles, notably "Rhetoric and Reality in the American Revolution" (1966), "Conspiracy and the Paranoid Style: Causality and Deceit in the Eighteenth century" (1982), and "Interests and Disinterestedness in the Making of the Constitution" (1987). He is a frequent contributor to The New York Review of Books and The New Republic.
A more recent project was the third volume of the Oxford History of the United States - Empire of Liberty: A History of the Early Republic, 1789–1815 (2009) - a finalist for the Pulitzer Prize.
Sir Ian Wood, CBE, BSc., LL.D, DBA, DTech, CBIM, Fscotvec, FCIB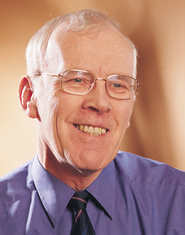 Ian Wood was born and educated in Aberdeen, where the family's early 20th century business was already growing into a major provider of services to the fishing industry as well as to other marine engineering projects. He was one of the first industrialists to recognise the importance of North Sea oil discoveries to Aberdeen and the UK, and under his chairmanship the Wood Group became what it is today, a multi-billion euro global business employing 28,000 people in 50 countries He was knighted in 1994.
Sir Ian is a philanthropist who tells us that he thinks and acts both locally and globally. Through the work of the
Wood Family Trust
(WFT), whose mission is to help develop and support individuals to become contributing members of their communities, he predominantly focuses on developing economic opportunities in Sub-Saharan Africa and the development of young people in the UK.
"We are all part of the same humanity – we must all contribute to humanity, not just take from it,"
Sir Ian has said.
"Our company has benefited from globalisation and so should assume responsibility for some of the global problems."
Sir Andrew Wood, GCMG (diplomat)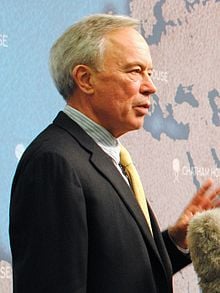 Born 1940 to a naval family in wartime fortress Gibraltar, Wood was educated at Ardingly College and King's College, Cambridge. In 1964, he was posted to Moscow by the British Diplomatic Service. From 1985 to 1989 he was British Ambassador to Yugoslavia while that country was breaking up into its componant ethnic parts. He was British Ambassador to Russia and Moldova between 1995 and 2000.
He has also served on the boards or executive councils of several commercial and investment institutions, has been senior adviser to Ernst & Young, and he advised the then British Prime Minister Tony Blair on Russian investment issues.
Stuart John Wood
Stuart was rhythm and bass guitarist of the sensational 70s Scottish pop/rock group, the Bay City Rollers.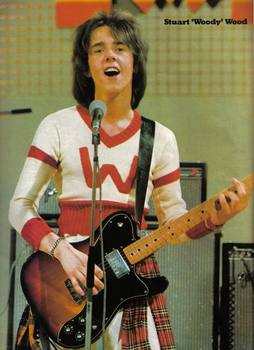 Born in 1957 in Edinburgh, where he still lives, he joined the group in 1973 and co-wrote a substantial number of the Rollers' global chart hits such as 'Love Me Like I Love You' and 'Money Honey'.
Specialising in producing Celtic music, Woody released the DVD of his life story, aptly entitled 'Rollercoaster', in 2007 to general acclaim.
He is still collaborating today with artists like Eddi Reader, Michelle McManus, Marj Hogarth, Matthew McVarish - and he produced Julienne Taylor's iconic 2011 album, 'The Heart Within'.
Christopher Wood, RSW


Born in 1962, Chris trained at Edinburgh College of Art, and has been a full-time professional artist since his first one-man exhibition in Edinburgh in 1987. He is now one of Europe's leading contemporary artists. As such, he is a senior member of the most important art societies in his native country.
Chris has won many prestigious awards, some of them being, the Armour Award, the Glasgow Art Club Fellowship, the James Torrance Memorial Award and the Sir William Gillies Award (2009) from the RSW for his major work, 'The Wind was the Colour of the Sun' (
photo: Paul Reid, Angus Pictures, Scotland).
Collectors of his work include the Demarco European Foundation, the Bank of Scotland, United Distillers, Edinburgh University, Lennox Lewis, MacRoberts Solicitors, Premier Property Group, Phoenix Equity Partners, Petro-Canada London, as well as numerous other private and corporate collectors around the world.
Living in the coastal town of Dunbar, East Lothian, with his wife and family, Chris says that his paintings are grounded in Nature. "They have to be. A painting is about emotional responses - but their inspiration and visual vocabulary still come from the land."
David Wood (Institute of Chartered Accountants of Scotland).
Speaking as Executive Director of ICAS, the widely respected economist David Wood was reported in The Times newspaper of 29th July 2013 as forecasting a devastating impact on UK pensions if Scotland were to become independent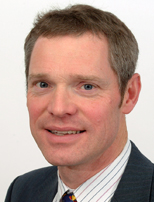 following a 'Yes' majority vote in the 2014 referendum. He said that the total deficit across all defined benefit schemes could be £170 billion and might put firms out of business.
The article continues: 'But universities could be even worse off, and a severance of Scotland from the UK would present a major headache for the Universities' Superannuation Scheme (USS), which has 287,000 members working for universities including Oxford and Cambridge in England, and Edinburgh and St Andrews in Scotland. Scotland has a higher than proportionate share of members in 24 institutions north of the border.
"Universities Scotland, the umbrella body for principals, produced a policy paper last year exploring the implications of Scottish independence. It said there must be 'sustainable funding of pension schemes and sharing of risk across a sufficiently wide pool'. There is deep concern in the sector that, if the schemes were separated and Scotland had to run its own, it would not be big enough to offer a good return to academics, and institutions would struggle to compete for staff with England."
The subsequent 'No' majority vote in the referendum will have been welcomed by David Wood and those everywhere who supported the continuance of the Union.
Howard Wood, OBE

COAST'S Howard Wood wins Goldman Environmental Prize
International award for COAST'S marine conservation campaign
Howard Wood, chairman and co-founder of COAST, has been awarded the highly prestigious Goldman Environmental Prize for his work with COAST promoting sustainable management of the seas around the Isle of Arran off southwest Scotland.
It is the first time this international award, the largest prize for grassroots environmentalists worldwide, has come to Scotland and only the second time it has been made to somebody in the UK.
Howard Wood moved to Arran with his family when he was a teenager. A keen diver, he witnessed at first hand the impact that dredging had on fragile marine habitats. In 1995, he established COAST with his friend Don MacNeish, to champion sustainable management of marine resources for the benefit of all. The organisation has now grown from being entirely staffed by volunteers to having two dedicated employees.
Howard said, "I am delighted with the award. This is global recognition of everything the community of marine volunteers on Arran has been working on for so long."
Just a few months later, Howard received the OBE from the Queen.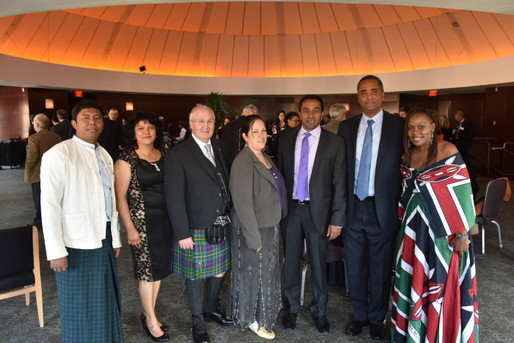 Resplendent in his Clan Wood kilt, Howard is pictured here with fellow prize winners at the award ceremony reception at San Francisco City Hall on the 20th April 2015
For more, go to the following link:
Some International Sports Stars
Alexander Wood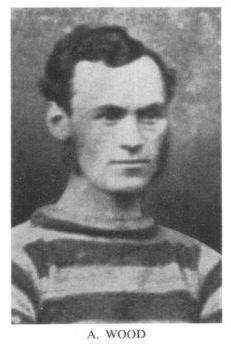 Born in Fetteresso, Stonehaven (like the Alexander Wood featured above), Alex played rugby for Scotland against England in 1873/74/75, when his team held the powerful England team to a draw each year except in 1874, when England won by a single drop goal.
* * *
Alfred Lyon Wood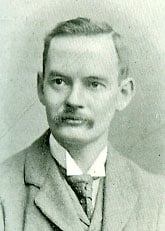 Alex's younger brother, Alfie, who gained two cricket Caps playing for Scotland was, quoting from an MCC record: "A grand bowler, and one of the steadiest batsmen in Scotland for a long time, who also played in many of the big events in the capital, and took part in the Scotland v Australians match in 1888."
(The mother of Alex and Alfie was sister to Robert Wm. Thompson who developed such innovations as the pneumatic tyre - decades earlier than fellow Scot, Dunlop, the fountain pen and the steam-powered road traction engine. The family were forebears of Clan Wood Society Life member, John Wood.)
* * *
William "Willie" Wood, MBE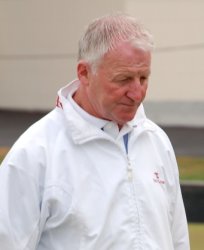 Born in 1938 in Haddington, East Lothian, Willie is a professional bowls player, whose achievements include two Commonwealth Games Gold Medals and two World Bowls Championship runner-up medals. Awarded the MBE for services to sport in 1992, he was inducted into the Scottish Sports Hall of Fame in 2007
* * *
George Wood, Goalkeeper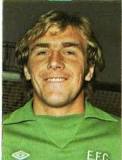 British Football Star
George earned four caps for Scotland during a highly successful football (soccer) career that started at East Stirlingshire for whom he scored a goal from his own penalty area against Queen of the South in 1971!
Born 26th September 1952 in Douglas, South Lanarkshire, he has played for Blackpool, three seasons for Everton, another three for Arsenal, then nearly five seasons for Crystal Palace by whom he was named 'Player of the Year' in 1986. From 1989 to the end of his playing career, he played for Cardiff City, for his old club Blackpool, and for Hereford United. He later managed Inter Cardiff, was goalkeeper coach to Cardiff City and then for Swindon Town. In 2012 he signed as goalkeeper coach to Crystal Palace.
* * *
Kelly Wood
British Curling Champion.

Born in Dundee in 1981, she has been Scottish Junior Curling Champion on three occasions and Scottish Women's Champion also three times. Kelly has competed in numerous European and World championships, representing both Scotland and the UK. She was a key member of the GB team at the 2006 Winter Olympics in Turin, and took the Silver Medal in the 2007 European Championships. Rapt millions watched her superb play in Canada as a member of the British Winter Olympics team 2010. She lives in Stirling, and her hobby is golf.

* * *

Lindsay Wood

British Curling Champion.

Like her elder sister, Lindsay is outstanding in her sport. She won Bronze at the 2007 World Curling Championships, and was Scottish Champion in both 2005 and 2006. She lives in Edinburgh.
* * *
Chris Grant Wood
New Zealand striker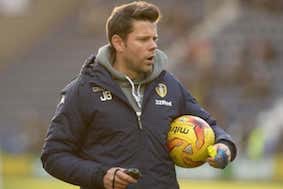 Born in 1991 to Grant and Julie Wood of Auckland, New Zealand, the destination of thousands of Scottish migrants, especially in the 19th centry, Wood is today one of football's most outstanding players. As of April 2018, he is vice-captain of New Zealand's national team, captaining twice in 2016 against New Caledonia in a 3-0 victory and a 0-0 draw, and then in the 2017 FIFA Confederations Cup when Mexico was beaton 2-1. In the UK, Wood has played for West Bromwich Albion, Barnsley, Brighton & Hove Albion, Birmingham City, Bristol City, Millwall, Leicester City, Ipswich Town, Leeds United and currently Burnley (widely reported to have bought him for £15m).
To date, he has racked up an impressive record of 111 NZFC, UK Premier League and international championship goals.
Last reviewed and updated 5th of May 2018