USA - Old
(If you would like to post a comment about anything in this page, Please go to the Club Talk Room of the Members' Area)


Here are some known events in North America at which the Clan Wood Society will be present.
If you would like to organize a Clan Wood Society Presence at your local games or festival, please contact the Society through this Web site, and we will assist in any way that we can.

Annual
Radford Highlanders Festival
Radford University, Radford VA.

-----------------------------------------------------------------------------------------------------------
Greater Greenville (SC) Scottish Games
and Highland Festival - "Gallabrae"
Furman University, Greenville, SC

See item below
----------------------------------------------------------------------------------------------------------
Annual Laurel Hill Highland Games & Festival

Volunteers Needed
Volunteers are needed to staff and help staff tents at the games listed above and other games arround North America. If you are interested in being involved with the fun and rewarding experience of representing Clan Wood at your local Scottish games or others, please contact Thom Wood, the Society's representative for the USA, Brian Wood our rep for Canada, or Council Chair Steve Wood. Part of the Society's mission is to staff Clan tents at these events. No monetary output on your part is required, and these activities can be a fun and rewarding time. Please see the FAQ below.
FAQ
Q - What is a Clan Tent -
A - A Clan Tent is a tent set up at Scottish Games or festivals to represent the individual Clans, provide information on that Clan, and give Clan and Society members a place to gather and relax.
Q - Who can Staff a Clan Wood Society Tent-
A - Anyone can staff a Clan Wood tent, but a Society member must be responsible for overseeing the tent, and receiving materials funded by the Society. You are welcome to have family and friends who are not members join you and assist you in staffing the tent.
Q - What will it cost -
A - The Clan Wood Society endeavors to cover the cost of representing the Clan Wood at Games and Festivals as part of our mission to serve the Clan. Please Contact us and ask how we can help.
Clan Wood Society in South Carolina
Thom Wood says:

CALLING ALL WOODS !!

We're getting ready to celebrate the 10th ANNIVERSARY of the Greenville Scottish Highland Games in May, and it's going to be the biggest annual parade down Main Street Greenville has ever seen!

It is NOT too early if you plan to attend and march in this fantastic parade because I am making plans now for all the things each person will carry. Please let me know if you can come, how many, so that I can work on this over the next several months. I need as many WOODS as I can get to be involved with this special anniversary parade

Mark your calendar for Friday, May 22, for the parade in downtown Greenville, SC!

The 2015 Greenville Scottish Games - save the date!

Great Scot! Parade - Friday, May 22 2015 - Downtown Greenville The Ceilidh - Friday, May 22 2015.

Now all 50 states have some form of Scottish Highland Games or festival which shows the continued interest in our Scottish roots and culture all across America. That's why YOU have to get involved, because I can't do my job unless you're willing to see yourself recognized by Clan Wood in every one of the 50 states.
"Thom, where can I get a Wood kilt?" We finally have found a way to have a Wood kilt made right here in the United States. St. Kilda USA is undertaking this project of making a medium weight acrylic pattern at a cost of about $70 for men's and women's kilts and after having seen their product personally, I highly recommend you contact me to get a kilt to wear proudly to your local Scottish games. I am currently working up an order for a first time run of a Clan Wood kilt so that St. Kilda can stock our tartan for the future. If you will contact me, [email protected], I can add your name to that order to get this project started.
Hear the clarion call, and ride for glory! (And for a really great time out!)

The South Dakota Highland Pipes and Drums parade proudly in their Clan Wood kilts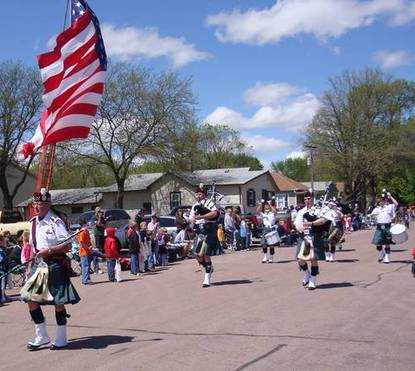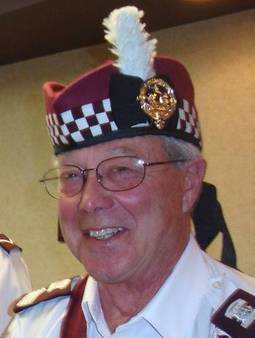 Founder Drum Major Robert Sorensen sporting the Clan Wood crest badge with which he was presented in May 2010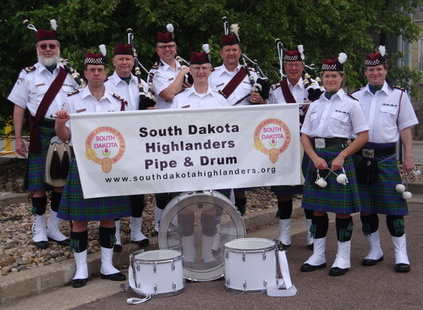 These men help to raise billions of Canadian and US dollars to provide free treatment at Shriners' Hospitals for crippled and burnt children
http://www.shrinershq.org/Shrine/

THE WOODS IN SOUTH CAROLINA
Having done us so proud at the 2009 event (see the Members' Bulletins pages), Thom Wood, with his cousin Cheryl,
has headed another Parade contingent at the 2010 Annual Scottish Games in Greenville, South Carolina, USA.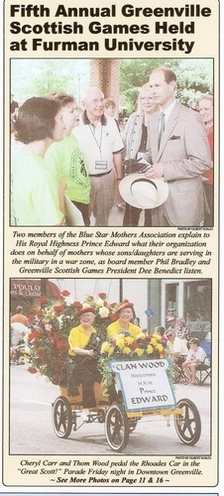 His Royal Highness Prince Edward, Duke of
Wessex, was a guest of honor at the Games,
and Thom's
entry in the Parade was
photographed by the
Greenville Times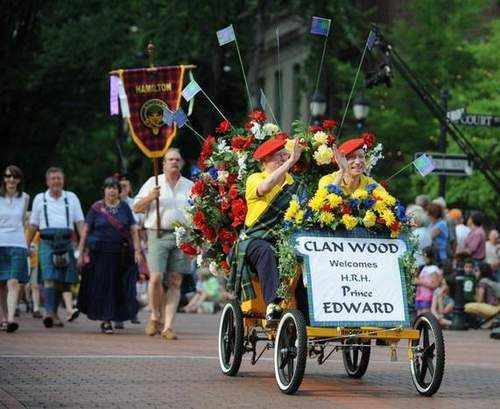 One of the main purposes for which we exist as a Society is to facilitate a Clan Wood presence at Games and Festivals Worldwide,
and by doing so inform Clan members and the public in about the rich history of this honorable Clan
as well as provide a point of contact with other Clan members.
If you would like to represent the Society at your local Games or Festival, please contact the Council Representative for your region by email
or the Council through this link